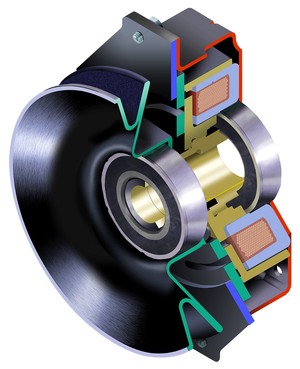 New Patented 1.5 Series PTO Clutch Brake for Lawn Tractors and Zero Turn Machines
03-15-2018
Ogura has introduced the first patented PTO clutch brake design in over 20 years. This new design is patented both in and out of the United States.

The PTO is an electric clutch with a mechanical brake to help slow cutting blades to help meet industry stop time requirements.

PTO clutch/brakes can be used on both consumer and commercial equipment. The new design offers improvements in both performance and cost versus other PTO clutch brake models. The 1.5 design features two large opposing brake pads (flip-setTM). When the clutch is worn, the two bolts holding the pads can be removed and the pads can be flipped extending overall cycle life.

Clutch models are well suited for all original equipment manufacturers both domestic and abroad. This new patented design will also help dealers and distributors retain future service parts profitability versus knock off designs of other PTO clutches whose patents have expired.

Additional information is on the Ogura website and there is a new Youtube animation showing how this new PTO clutch brake functions.

Ogura has been producing clutches and brakes since 1938. Over that time, we have developed over 5,000 different models of clutches and brakes. Although Ogura primarily produces electromagnetic clutches and brakes, we also produce magnet particle, mechanical, pneumatic, hydraulic and a variety of specialty products. Ogura is the world's largest manufacturer of electromagnetic clutches and brakes. Current manufacturing capacity is over 30 million units per year. To provide localized support, we have manufacturing plants spread throughout the world in Asia, The Americas, and Europe. All manufacturing facilities are ISO recognized and conform to the ISO 9001;2008, ISO 140001, and ISO/TS 16949.

If you would like us to build a special product for you or to modify one of our existing standard models, please contact us at 732-271-7361, and we will assist you in finding a product that will meet your needs. Or if you prefer, please visit our website at www.ogura-clutch.com for immediate information. Ogura Industrial Corp. Somerset, NJ.
---