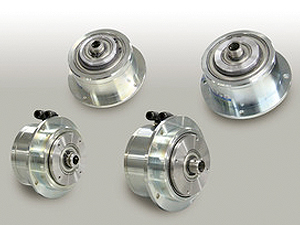 New Ogura Magnetic Particle Clutches Have Improved Performance
08-05-2015
Two of the most popular magnetic particle clutches from Ogura have been redesigned to improve performance for a variety of tension and torque control applications.

The clutch now has a faster response because of a new optimized internal flux path design. In addition, this new, more efficient flux path allows for the clutch to use a smaller coil. The new coil is about 30-40% lower in wattage than the previous design, but this smaller coil is still able to generate the same torque as previous models. (35 in lbs for size 40 and 71 in lbs for the size 80). The smaller coil also reduces the operational temperature of the clutch reducing heat in the bearings which can lead to longer overall clutch life.

For applications that require even greater heat dissipation, an optional forced air cooling chamber has been added to both the size 40 and 80. Only 7.5 psi is required to produce a significant increase in heat generation. Both units have an approximate 70% increase in heat dissipation. The 40 is increased from 70 watts to 120 watts and the 80 increases from 90 watts to 160 watts. Typical machinery applications that can benefit from these new designs are testing machines for motors, tension control applications, packaging equipment and test machinery where a simulation of load would be required.

Ogura has been producing clutches and brakes since 1938. Over that time, we have developed over 5,000 different models of clutches and brakes. Although Ogura primarily produces electromagnetic clutches and brakes, we also produce magnet particle, mechanical, pneumatic, hydraulic and a variety of specialty products. Ogura is the world's largest manufacturer of electromagnetic clutches and brakes. Current manufacturing capacity is over 30 million units per year. To provide localized support, we have fourteen manufacturing plants spread throughout the world in Asia, The Americas, and Europe. All manufacturing facilities are ISO recognized and conform to the ISO 9001;2008, ISO 140001, and ISO/TS 16949.

If you would like us to build a special product for you or to modify one of our existing standard models, please contact us at 732-271-7361, and we will assist you in finding a product that will meet your needs. Or if you prefer, please visit our website at www.ogura-clutch.com for immediate information. Ogura Industrial Corp. Somerset, NJ.
---