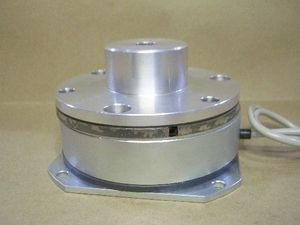 New Electromagnetic Permanent Brake Available from Ogura
03-13-2013
A new high torque permanent magnet brake, model PMB-06 is now available from Ogura. The new model has a smaller diameter than the size 07, but can achieve almost twice the torque of the size 7 by adding only 1/16th of an inch of overall length. The brake comes standard with an armature/hub and 24v coil, but can be modified to a customer's specification. The new brake's higher torque, but smaller size makes it well suited for medical and other portable applications where size and weight are critical. The brake joins the other six models of PMB ranging in torque from 0.3 to 22 lb ft. All models come standard with zero backlash which is ideal for servo and high precision holding applications. Besides size and torque, another advantage of permanent magnet brakes over other styles of holding brakes is that permanent magnets can apply a controlled stop, if needed.

Ogura has been producing clutches and brakes since 1938. Over that time, we have developed over 5,000 different models of clutches and brakes. Although Ogura primarily produces electromagnetic clutches and brakes, we also produce magnet particle, mechanical, pneumatic, hydraulic and a variety of specialty products. Ogura is the world's largest manufacturer of electromagnetic clutches and brakes. Current manufacturing capacity is over 30 million units per year. To provide localized support, we have fourteen manufacturing plants spread throughout the world in Asia, The Americas, and Europe. All manufacturing facilities are ISO recognized and conform to the ISO 9001;2008, ISO 140001, and ISO/TS 16949.

If you would like us to build a special product for you or to modify one of our existing standard models, please contact us at 732-271-7361, and we will assist you in finding a product that will meet your needs. Or if you prefer, please visit our website at www.ogura-clutch.com for immediate information. Ogura Industrial Corp. Somerset, NJ.
---