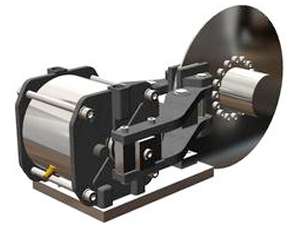 New Pneumatic Caliper Brake
03-01-2012
With the continued interest in caliper brakes in both electric and hydraulic styles, some Ogura customers have also requested that Ogura produce a pneumatic style spring-engaged caliper brake. From these requests, Ogura has developed two series of spring-applied, pneumatically released caliper disc brakes. These are the ANB-1100-CP and ANB-2300-CP. The 1100-CP has 11,000 newtons of clamping force and the 2300 has 23,000 newtons of clamping force. The actual torque applied to a given application is a function of the diameter of the disc. The disc for either brake would be customer supplied.

The new brakes from Ogura have stationary cylinders that make them highly reliable and very resistant to vibration. Even though the brakes can produce a tremendous force, they are relatively lightweight for their size and take up significantly less space than an equivalent single-face brake. So, they are ideal for applications, such as wind turbines and railcar shuttle equipment because any time pneumatic pressure is lost, the brakes can come on and hold in an emergency.

Ogura has been producing clutches and brakes since 1938. Over that time, we have developed over 5,000 different models of clutches and brakes. Although Ogura primarily produces electromagnetic clutches and brakes, we also produce magnet particle, mechanical, pneumatic, hydraulic and a variety of specialty products. Ogura is the world's largest manufacturer of electromagnetic clutches and brakes. Current manufacturing capacity is over 30 million units per year. To provide localized support, we have fourteen manufacturing plants spread throughout the world in Asia, The Americas, and Europe. All manufacturing facilities are ISO recognized and conform to the ISO 9001;2008, ISO 140001, and ISO/TS 16949.

If you would like us to build a special product for you or to modify one of our existing standard models, please contact us at 732-271-7361, and we will assist you in finding a product that will meet your needs. Or if you prefer, please visit our website at www.ogura-clutch.com for immediate information. Ogura Industrial Corp. Somerset, NJ.
---