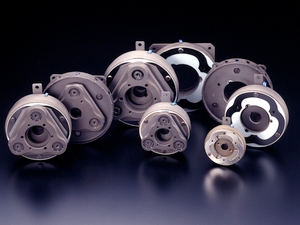 The Electromagnetic Clutch You Don`t Hear May Be An Ogura
05-31-2011
Ogura has developed a "silent" armature for its industrial clutch and brake V series. In many applications in industries like medical or entertainment extraneous noise is a problem. The silent armature developed by Ogura helps to dampen the sometimes objectionable click a clutch or brake makes when engaging.

To accomplish this dampening, the Ogura V series armatures have a dampening material attached to the back side of the armature. This material helps to absorb the sound from a clutch or brake engagement allowing for a much quieter operation. These clutches have been used in X-ray equipment, hospital beds and other medical customer care equipment. They've also had uses in the entertainment industry to quietly raise and lower props. Clutches and brakes are available in six sizes ranging from 4.5 lb ft. to 150 lb ft. in torque. Standard operating voltage is 24 volts DC, but a wide variety of DC coils can be made available. Bore sizes are available in either metric or inch and custom designs such as additional pulleys and/or gears are also possible.

Ogura has been producing clutches and brakes since 1938. Over that time, we have developed over 5,000 different models of clutches and brakes. Although Ogura primarily produces electromagnetic clutches and brakes, we also produce magnet particle, mechanical, pneumatic, hydraulic and a variety of specialty products. Ogura is the world' largest manufacturer of electromagnetic clutches and brakes. Current manufacturing capacity is over 30 million units per year. To provide localized support, we have fourteen manufacturing plants spread throughout the world in Asia, The Americas, and Europe. All manufacturing facilities are ISO recognized and conform to the ISO 9001;2008, ISO 140001, and ISO/TS 16949.

If you would like us to build a special product for you or to modify one of our existing standard models, please contact us at 732-271-7361, and we will assist you in finding a product that will meet your needs. Or if you prefer, please visit our website at www.ogura-clutch.com for immediate information. Ogura Industrial Corp. Somerset, NJ.
---