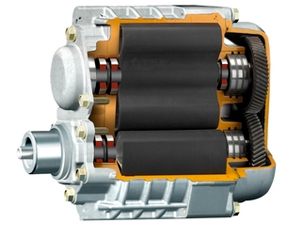 Ogura Introduces New High Efficiency Long Life Hydrogen Pump for Fuel Cells
02-17-2011
Ogura has developed a new hydrogen pump design for use in the fuel cell applications. This new high efficiency, long life pump is ideally suited for a harsh hydrogen/water environment. The pump is a positive displacement blower that operates by pulling gas through a pair of smoothly meshing rotors. The rotors are connected to each other by gears that are 90 degrees offset from each other. As the rotor turns in opposite directions, the gas is trapped in the pockets between the rotors and the housing. For every revolution of the rotor, a volume of gas (depending upon the devices size) gets pumps from one side to the other.

The new hydrogen pump includes low inertia rotors that incorporate a special coating that provides an exceptionally tight internal tolerance. This superior sealing also operates at a low temperature with very high overall efficiency. Compared to other types of pumps on the market, the Ogura Hydrogen Pump has a relatively small power consumption. A new type of rotary seal keeps hydrogen from escaping, while at the same time resisting water contamination in the wet hydrogen atmosphere. A redundant pathway for hydrogen and timing gear lube allows the system to continue to operate even in the unlikely event of a seal failure, preventing contamination to the hydrogen stream.

The new hydrogen pumps from Ogura have been used in commercial automotive applications and current usage over the past year is an excess of 12,000 hours per installation with no hydrogen leaks.

Ogura has been producing products since 1938 and has been producing blowers for automotive applications since the mid 1970's. Fourteen manufacturing plants throughout the world produce various Ogura products under ISO9001, ISO14001 and ISO/TS16949 guidelines. If you would like us to look at your hydrogen pump requirements, please contact Fred Cacace at (732) 271-7362.