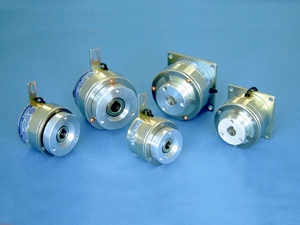 Electromagnetic Clutch, Low Cost Solution to SERVO Drives
05-09-2011
Most industrial clutches and brakes are measured in the millions of cycles, but when you have applications such as high volume mail sorting machines life needs to be measured in the tens of millions of cycles. To accomplish this high cycle life, Ogura uses ceramic friction material as an option in the AMC series of clutches and brakes. In most high cycle applications, Servo systems are used instead of clutches and brakes. Normally, they are the only solution to achieve both high cycle rates and fast response time.

For customers looking for lower cost solutions, Ogura's modified AMC clutches and brakes allow customers an alternative to Servo's. Although response time varies based on inertia, typical response times are around 25 milliseconds. This is the actual time to speed/time to stop, not a response time of the clutch or brake (which is faster at around 10 milliseconds). To accomplish quick response times, Ogura uses spring loaded, zero gap armatures. Typical cycles for the clutch and brake on machines are in the 30-50 million range. For customers that are looking to reduce their machine cost and still maintain long life, Ogura ceramic faced clutches and brakes are the answer.

Ogura has been producing clutches and brakes since 1938. Over that time, we have developed over 5,000 different models of clutches and brakes. Although Ogura primarily produces electromagnetic clutches and brakes, we also produce magnet particle, mechanical, pneumatic, hydraulic and a variety of specialty products. Ogura is the world's largest manufacturer of electromagnetic clutches and brakes. Current manufacturing capacity is over 30 million units per year. To provide localized support, we have fourteen manufacturing plants spread throughout the world in Asia, The Americas, and Europe. All manufacturing facilities are ISO recognized and conform to the ISO 9001;2008, ISO 140001, and ISO/TS 16949.

If you would like us to build a special product for you or to modify one of our existing standard models, please contact us at 732-271-7361, and we will assist you in finding a product that will meet your needs. Or if you prefer, please visit our website at www.ogura-clutch.com for immediate information. Ogura Industrial Corp. Somerset, NJ.