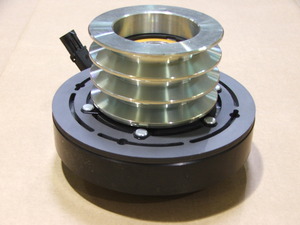 Electric clutches improve safety and efficiency
04-19-2010
Ogura general purpose clutches are being used more frequently on a variety of mobile and light construction equipment. Clutches are available in 3 torque ranges of 100 lb-ft, 250 lb-ft, and 350 lb-ft. Clutches are made to mount on standard engine shafts of 1", 1 1/8"\", 1 1/4" and 1 7/16" and are normally suited for engines from 14hp to 35hp and speeds up to 4,000RPM. Electric clutches are normally belt driven but models are available with universal mounts to accept coupling or universal joint flanges.

These clutches are used on a variety of outdoor power, farming and light construction equipment such as trenchers and mixers. They allow for the disconnection of a driving component such as a pump, fan or blade when not in use providing lower fuel consumption and increasing the driven components life. The other advantage with the electric clutch is the workers safety. Since both engagement and disengagement can be accomplished in fractions of a second, machinery can be fitted with operator presence controls or remote engagement switches to help prevent an injury that could be caused by accidental machine engagement.

Ogura has been producing clutches and brakes since 1938. Over that time, we have developed over 5,000 different models of clutches and brakes. Although Ogura primarily produces electromagnetic clutches and brakes, we also produce magnet particle, mechanical, pneumatic, hydraulic and a variety of specialty products. Ogura is the world's largest manufacturer of electromagnetic clutches and brakes. Current manufacturing capacity is over 30 million units per year. To provide localized support, we have fourteen manufacturing plants spread throughout the world in Asia, The Americas, and Europe. All manufacturing facilities are ISO recognized and conform to the ISO 9001;2008, ISO 140001, and ISO/TS 16949.

If you would like us to build a special product for you or to modify one of our existing standard models, please contact us at 732-271-7361, and we will assist you in finding a product that will meet your needs. Or if you prefer, please visit our website at www.ogura-clutch.com for immediate information. Ogura Industrial Corp. Somerset, NJ.
---