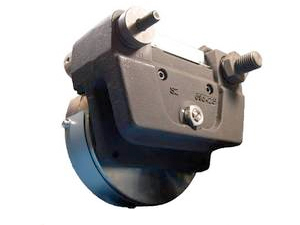 New Spring Applied Electric Caliper Disc Brake
02-16-2010
Most caliper disc brakes currently available are either controlled pneumatically or hydraulically. The new spring applied electric caliper disc brake (ENB-300CP), from Ogura, uses a series of springs to apply force to a common steel disc (customer supplied) and is released when voltage/current is applied. Since this brake operates electrically and only needs a simple two wire hook up, installation costs are far less than pneumatic and hydraulic brakes which require supply lines and compressed air or hydraulic fluid. The brake is approximately 7 inches in length, 5 inches in width and 6 inches in height. It can produce 710 lbs. of axial force and is made to operate with a disc thickness of 12.5 mm. Normal operating voltage is 45 volts but typically over excitation is used to get a quick response, so the brake is made to operate with an over excitation of 90 volts.

Since the brakes are modular in design, multiple brakes can be added to a single disc to increase the torque. If two brakes are used on one disc, the torque doubles. Customers also have the option, if space is available, to increase the size of the disc to increase the torque. For example, the torque from an 8" disc would be about 150 lb. ft. and from a 16" disc, it would be 300 lb. ft. Brakes can also be made with integral limit switches so that a system would register if the brake is either engaged or disengaged. All brakes also come with manual release nuts so brakes can be released in an emergency. Although, mainly designed for hoist and elevator applications, these low cost modular brakes can be used in a variety of industrial applications, where torque, weight and cost are critical.

Ogura has been producing clutches and brakes since 1938. Over that time, we have developed over 5,000 different models of clutches and brakes. Although Ogura primarily produces electromagnetic clutches and brakes, we also produce magnet particle, mechanical, pneumatic, hydraulic and a variety of specialty products. Ogura is the world's largest manufacturer of electromagnetic clutches and brakes. Current manufacturing capacity is over 30 million units per year. To provide localized support, we have fourteen manufacturing plants spread throughout the world in Asia, The Americas, and Europe. All manufacturing facilities are ISO recognized and conform to the ISO 9001;2008, ISO 140001, and ISO/TS 16949.
If you would like us to build a special product for you or to modify one of our existing standard models, please contact us at 732-271-7361, and we will assist you in finding a product that will meet your needs. Or if you prefer, please visit our website at www.ogura-clutch.com for immediate information. Ogura Industrial Corp. Somerset, NJ.