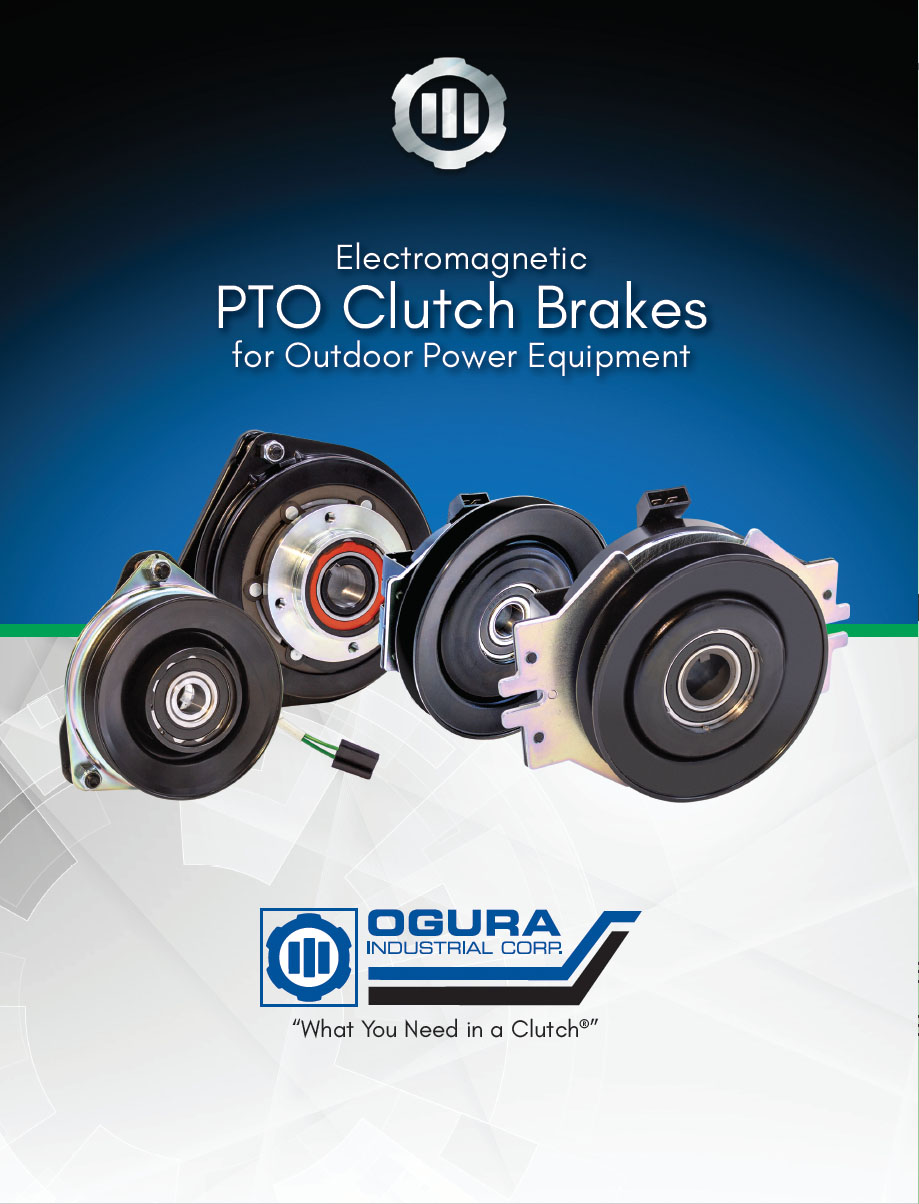 Ogura Creates New PTO Clutch/Brake Brochure
08-21-2020
Ogura Industrial has created a new marketing brochure for PTO clutch/brakes for outdoor power equipment. These PTO clutch/brakes use an electromagnetic clutch combined with a mechanical brake to both start and help stop a rotating implement like a cutting blade. They are primarily used on outdoor power equipment like zero turn mowers, consumer lawn tractors, stump grinders and portable sawmill equipment.

This brochure highlights the latest innovation and patented design clutch series from Ogura. All clutch series are available with a variety of output options and can be used on engine shafts of 1" to 1 7/16". Clutches can also be combined with soft-start controls to help increase belt service life and reduce engagement shock.

Ogura has been producing clutches and brakes since 1938. Over that time, we have developed over 7,000 different models of clutches and brakes. Although Ogura primarily produces electromagnetic clutches and brakes, we also produce magnetic particle, mechanical, pneumatic, hydraulic and a variety of specialty products. Ogura is the world's largest manufacturer of electromagnetic clutches and brakes. Current manufacturing capacity is over 30 million units per year. To provide localized support, we have manufacturing plants spread throughout the world in Asia, the Americas, and Europe. Most manufacturing facilities are ISO recognized and conform to the ISO 9001:2015, ISO 14001:2015, and IATF 16949:2016.

If you would like us to build a special product for you or to modify one of our existing standard models, please contact us at 732-271-7361, and we will assist you in finding a product that will meet your needs. You can download this brochure from our website at www.ogura-clutch.com or please call us and we will mail one to you. Ogura Industrial Corp. Somerset, NJ.
---